AC MAINTENANCE PROGRAM
Get the oil changed regularly, visit your doctor for your annual checkup, get those teeth cleaned every six months…but what about your AC system?  Statistics prove that keeping your AC system as healthy as possible by having a Preventative Maintenance Program (PMP) saves money over the long term and helps avoid uncomfortable AC system down time.
How does our Preventative Maintenance Program help you save money?
Our PMP can keep your AC system running at peak efficiency and can also determine if a component is failing or may have the potential to malfunction.  Our regularly scheduled visits have a proven record of reducing expensive repairs and ensuring AC systems are optimizing their consumption of electricity.  Also, continued maintenance checkups over many years have proven to extend the operational life of AC systems.  You may get as much as 3-5 years more of a cooling life from your AC systems that are cared for over the years with a PMP.
Extended warranties from AC manufacturers require that AC systems are properly maintained with a PMP or some type of recurring maintenance plan.
If you choose to buy an extended warranty provided by the AC manufacturer of the systems in your home, they require proof of proactive maintenance services when you need to file a claim.  Don't let your smart investment in an extended warranty become worthless!
Bottom Line – What Does our Preventative Maintenance Program do for You?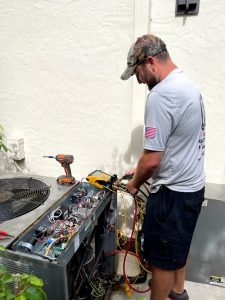 Keeping your AC system in good working condition be getting regular preventative maintenance checkups off several key advantages
Prolong the life of your AC system
Increase the operational efficiency of your AC system
Optimize the indoor air quality (IAQ) provided by your AC system
Stay protected under your extended warranty
Reduce future AC system breakdowns and uncomfortable down time
Every Preventative Maintenance Program visit provides:
Flush drain lines
Vacuum drain pans
Treat drains with algae tablets
Check evaporator/air handler/indoor coil for mold
Rinse condenser coils
Check refrigerant level
Check compressor monitor, measure amperage, volt draw and fan current
Inspect fan blades
Test and inspect contactor points for wear, pitted contacts and high resistance
Check capacitor to hold a charge
Check seals of caps and valves
Check thermostat operation
Check blower – measure amperage and voltage for proper operation
Check all safety devices
Check blower wheel
Check for corrosive and rusty parts
Listen for abnormal noises
Check electrical connections and wires for exposed wiring
Check temperature at vents – measure supply/return temperature differential
Check float switch operation
Brush out electrical cabinet
Lubricate moving parts
***Check filters, change if requested and when provided
Provide an overall AC system performance analysis
Provide detailed written estimate for any recommended repairs
Please make sure to check out the high-quality custom filters that QFAC provides that are delivered right to your doorstep!